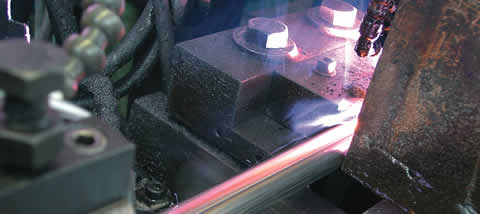 The Tubinox product range is made up of round tubes exclusively with middle to small diameters from 6 mm to 88,9 mm with wall thickness from 0,5 mm up to 4,0 mm.
TIG welding is used in all production. In this way the resulting weld bead is much thinner and the quality of the tube is greater.
From 30 mm outside diameter inside rolling of weld bead is done. This is a characteristic much in demand in the manufacturing of food-processing machinery.
The tubes are, grinded on the outside, checked with Eddy Current technology, and un-annealed.
The standard length for delivery is 6 meters; on demand it is however possible to deliver different lengths.
The tubes are marked with the stainless steel quality, melt number, dimension and the operators initials.
On demand unmarked tubes can be supplied.
DIMENSIONAL PRODUCTION RANGE TABLE
DIAM.
WALL THICKNESS
0,5
0,6
0,7
0,8
1
1,2
1,5
2
2,5
3
3,5
4
6
X
8
Ø
Ø
Ø
Ø
X
Ø
X
10
Ø
Ø
Ø
Ø
X
Ø
X
12
Ø
Ø
Ø
Ø
X
X
X
X
13
Ø
Ø
Ø
Ø
X
Ø
X
14
Ø
Ø
Ø
Ø
X
X
X
X
15
Ø
Ø
Ø
Ø
X
X
X
X
16
Ø
Ø
Ø
Ø
X
X
X
X
17,2
Ø
Ø
Ø
Ø
Ø
Ø
X
X
18
Ø
Ø
Ø
Ø
X
Ø
X
X
19,05
Ø
Ø
Ø
Ø
X
Ø
X
X
20
Ø
Ø
Ø
Ø
Δ
X
Δ
X
Ø
X
21,3
Ø
Ø
Ø
Ø
X
Ø
X
X
X
X
22
Ø
Ø
Ø
Ø
X
Δ
Δ
X
Ø
23
Ø
Δ
Ø
25
Ø
Ø
Ø
Ø
Δ
Δ
Δ
Δ
Ø
X
26,9
Ø
Ø
Ø
Ø
X
X
X
X
X
X
28
Ø
Ø
Ø
Ø
X
X
Δ
X
Ø
X
30
Ø
Ø
Ø
Ø
X
X
Δ
Δ
X
X
32
Ø
Ø
Ø
Ø
X
X
X
X
Ø
X
33,7
Ø
Ø
Δ
X
X
X
Ø
35
X
Ø
Δ
Δ
Ø
Ø
Ø
38,1
X
Ø
X
X
X
X
Ø
40
X
X
Δ
Δ
Ø
X
42,4
X
Ø
X
X
X
X
Ø
45
Ø
Ø
X
X
Ø
Ø
48,3
Ø
Ø
X
X
X
X
X
Ø
50
X
Ø
Δ
X
Ø
X
Ø
Ø
50,8
Ø
Ø
X
X
Ø
Ø
Ø
Ø
51
Ø
Ø
X
X
Ø
Ø
Ø
Ø
54
Ø
Ø
X
X
Ø
Ø
Ø
Ø
55
Ø
Ø
Ø
Ø
Ø
Ø
Ø
Ø
60,3
Ø
Ø
X
X
X
X
X
X
70
Ø
X
X
Ø
X
Ø
Ø
76,1
Ø
X
X
X
X
Ø
Ø
80
Ø
Ø
X
X
X
X
Ø
Ø
88,9
Ø
X
X
X
X
Ø
X